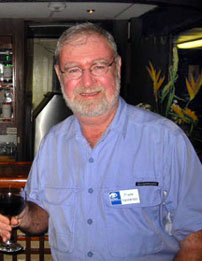 Frank Vannerson, a long time contributor to this web site, died from complications of metastatic colon cancer on March 1, 2008.
Vannerson's contributions to wine scholarship will be familiar to those who scan the tasting notes on this web site, appearing simply under the moniker of "Frank." Frank was the guiding spirit in the formation of the tasting group whose notes appear here.
He is also well known among wine economists for his paper demonstrating that the alleged American boycott of French wines during the run up to the Iraq War had no actual effect on the American consumption of French wines. Most analysts had ignored the well known seasonal effect in French wine sales shares and drawn an incorrect conclusion, as Vannerson made clear.Presented at the Vineyard Data Quantification Society meeting to a French audience in Dijon, the paper was greeted with genuine astonishment. A subsequest re-working of his data and methods confirmed Vannerson's conclusions and appeared in the Journal of Wine Economics in its Spring 2008 issue.
A memorial service is scheduled for 4:30pm on April 1, 2008 in Richardson Auditorium in Alexander Hall on the Princeton University campus.
Return to previous page